Bill Nye the Science Guy is coming to Winnipeg on March 3, 2024 at Centennial Concert Hall, presented by Center Stage Entertainment. On sale now at centennialconcerthall.com and the Centennial Concert Hall box office, 204-949-3999.
VIP Package Available:
Premium seat, post-show meet/greet with Bill Nye with post-show photo opp and a signed copy of his book "Everything all at Once".
The countdown is on to save the world from catastrophic climate disaster, but is it too late? Bill Nye doesn't think so. A cultural icon who made science accessible and "cool" for kids in the '90's, Bill Nye is back, and this time with a new mission: to help rescue Earth's inhabitants from climate change …with science! Join us at the Centennial Concert Hall in Winnipeg on March 3 2024 at 7:30 PM for "The End Is Nye". 
Delivered with a solid dose of humour and nostalgia, Bill will take us back through his history as "The Science Guy" and will fast-forward back to today, letting us in on the latest scientific advancements he's passionate about, and how we, as individuals, can do a small part to make a huge difference. Because after all this time, Science still rules!
Engineer, comedian, author, and inventor, audiences revere this good-natured Renaissance man's infectious blend of humor, intellectual curiosity, and devotion to solving some of the world's most complex challenges through science. Best known for his 18-time Emmy-winning run as "Bill Nye the Science Guy," he brings his love of science and flair for comedy to every appearance – deftly translating complex issues to help inspire audiences of all ages to engage with and improve our world.
Suitable for ages 8 and up
Presented by Center Stage Entertainment
www.csentertainment.ca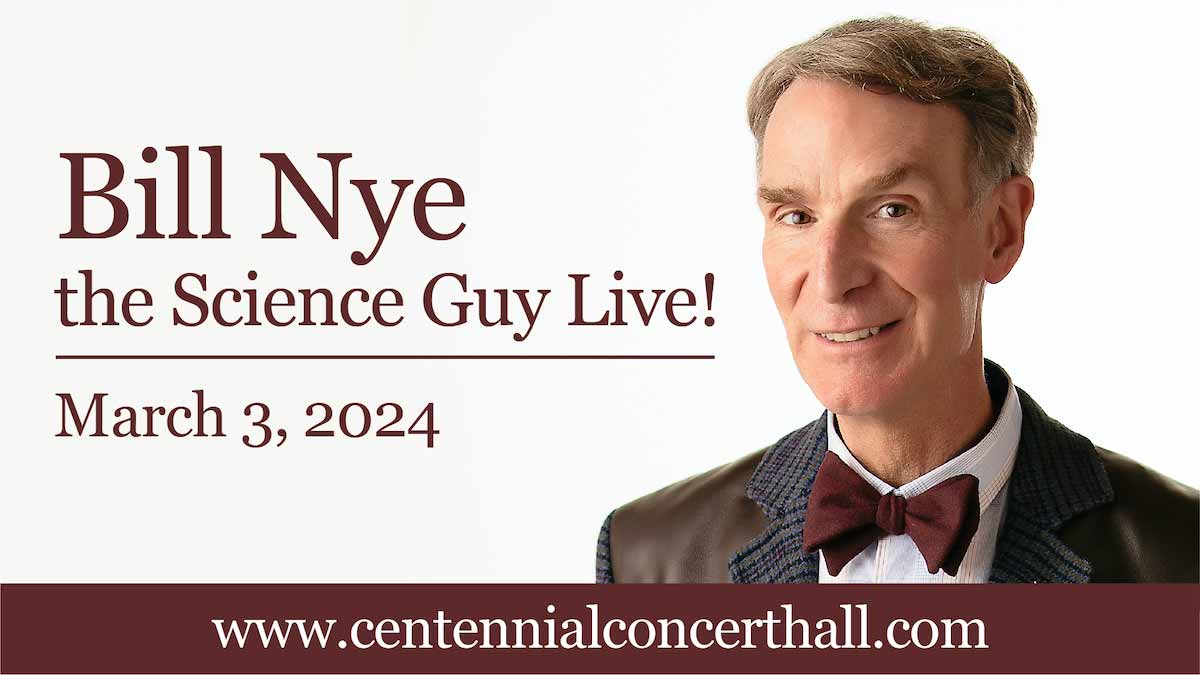 The End is Nye: An Evening with Bill Nye the Science Guy
Centennial Concert Hall
555 Main St, Winnipeg, MB
Tickets at CentennialConcertHall.com
Performance date
Sunday, March 3, 2024 | 7:30 pm
On Sale
September 15 | 11:00 am
Other Information
No cameras or recording devices
Live performance, full capacity audience
Patrons of all ages require a ticket for entry
Suitable for ages 8 and up but no restrictions
Subject to Terms and Conditions