Satinder Sartaaj "Sublime Canada Tour" in Winnipeg at Centennial Concert Hall, May 14, 2023. On sale December 7, 2022 at 11am via CentennialConcertHall.com.
Dr. Satinder Sartaaj - Singer, Lyricist, Composer & an Actor
A multi-gifted artist, artist, songwriter, singer, composer and poet. Today Dr.Satinder Sartaaj possesses an unprecedented list of achievements and remains in the fore front of his craft, a true inspiration. As an artist he excites, enlightens, leads and embraces his fans with insights into life's meaning and deepest feelings. Ancestral values are seen embedded deep in his poetry. Satinder Sartaaj captivates audiences through the vigor and sheer beauty of his words and lyrics. His songs stir the souls, energize the bodies, liberate the minds and heal the hearts.
Other Information
200 minutes in length
Review Health Protocols
Live performance, full capacity audience
Patrons of all ages require a ticket for entry
All ages
No Cameras or recording
Artist Website
SatinderSartaaj.com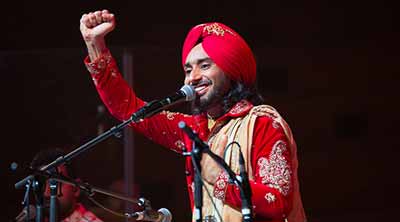 Satinder Sartaaj
Centennial Concert Hall
555 Main St, Winnipeg, MB
Tickets at CentennialConcertHall.com and the box office 204-949-3999
Performance date
May 14, 2023 | 8:00 pm
On Sale
December 7, 2022 | 11:00 am